Cabinet Refinishing Services for Oakland and Macomb
Is it time to refresh those outdated cabinets? Many homeowners want to upgrade their homes, but don't have the time or finances with the spike in material costs we are facing. This is where cabinets refinishing from Expert Painting can give your home the upgrade it needs for a fraction of what a complete cabinet replacement would cost.
Schedule a free consultation today and see why Expert Painting & Maintenance has over 45 years of happy customers.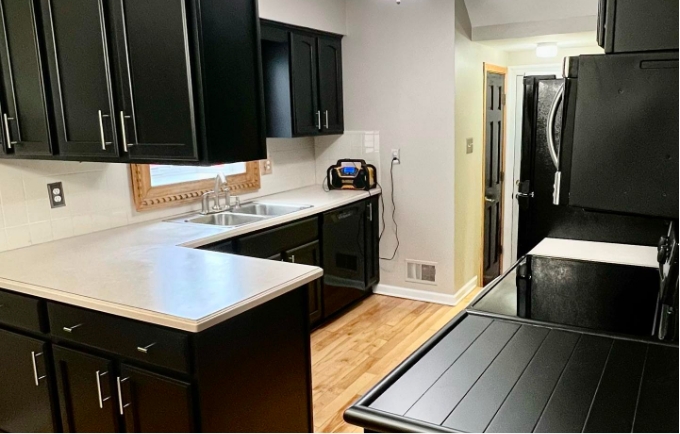 What's The Difference Between Cabinet
Refinishing and Cabinet Painting?
A common misconception is that cabinet refinishing is the same as cabinet painting. Painting your cabinets means smoothing the surface and repainting with a new color. On the other hand, cabinet refinishing will strip the cabinet down for a more natural look. For example, if your cabinets are made of wood, refinishing will show details such as wood grain, making your kitchen or bathroom cabinets look more traditional.
Here are five reasons you should have your cabinets refinished.
Slide
It will improve the value of your home
Slide
It will give your kitchen/ bathroom the look you want
Slide
It's incredibly less expensive than a replacement
Slide
Cabinet refinishing is faster and less of an inconvenience (transform in about 4 days)
Slide
Stripping and Refinishing methods have improved for superior finish and durability
Working With Expert Painting & Maintenance
With over 45 years of helping families all over Michigan, Expert Painting & Maintenance should be your choice when it comes to your cabinet refinishing needs. Whether it's kitchen or bathroom cabinets, our process is proven, and we strive to make our customers as happy. We take our work seriously by respecting our customers' homes and ensuring quality work.
Give our cabinet refinishing company a call today for a free, initial consultation to learn how your home can look its best with the help of newly refinishing cabinets.
2 Year Guarantee - Fully Transferable Material & Labor Guarantee On Cabinet Refinishing
Expert Painting & Maintenance will repair peeling or bubbling paint – no questions and no hidden fees – for up to 2 years. We keep colors on file for future touch-ups.
Subject to the limitations.